Treginnis Update 2018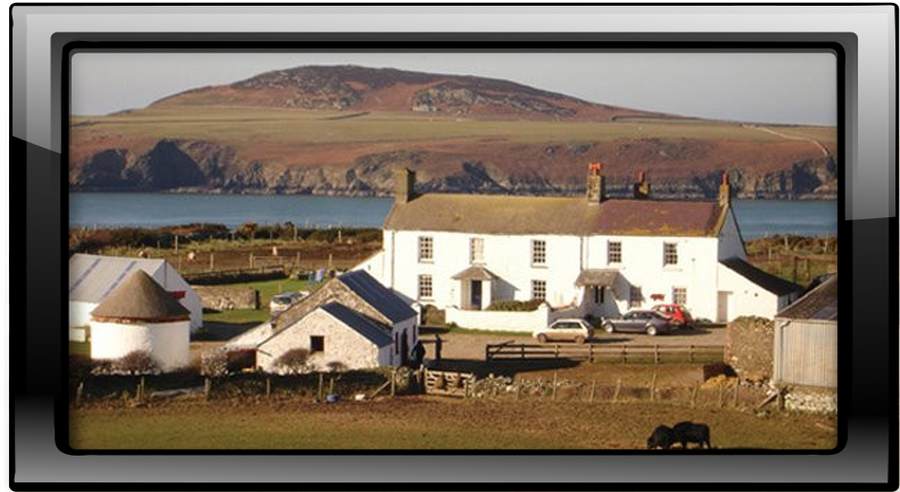 Friday 12th October
After our long coach journey, we arrived at Treginnis to a wet and windy welcome. We all know how to wash our hands properly now and how to keep the green side of the farm free from germs. After dinner, we had time for play and relaxing before we got started on our shelters. All of the wood sawing has been done, and the frames are well on their way.
The real work starts tomorrow with chickens, goats and sheep needing our attention before we can have breakfast.
Saturday, 13th October
We started our farm work this morning and were greeted before breakfast with howling wind and horizontal rain. Our waterproofs were all tested and seemed to pass the test. Group C won Mr Hainie's 'Hardcore Award' today as they braved the worst of the weather first thing while feeding the cows and rams. They were rewarded later on when they had some lovely sightings of seals including some pups. We've done lots of other jobs today including mucking out for chickens, turkeys and sheep; sawing and packing logs; harvesting fruit and veg ; checking on sheep and milking goats. The weather improved as the day went on and the forecast for tomorrow is much brighter and drier.
We also found time for some outside play. In the evening, after a Treginnis hot dog dinner, we carried on making our shelters for D&T. Hot chocolate was served before story time then lights out.
Everyone (children and adults) managed to get a bit (but not much) more sleep last night, which served us well for the busy day ahead. The weather was much more favourable today. After breakfast, we got a coach into St David's to attend Mass at St Michael's Church. The children behaved impeccably throughout the service, and several parishioners complemented us on their conduct.
Before lunch, we went as one big group for a coastal walk. There were a few puddles along the way and the children took every opportunity to further test-drive their wellies. Along with some stunning scenery and interesting local stories from Les, we managed to spot some seals including pups.
We had our lunch before heading out to do some farm tasks including grooming horses and donkeys, and feeding the 'wild' ducks. Next was a roast dinner and birthday cake. Progress on the shelter creations continues with gluing our frames together being the main focus for this evening.
Message from Mrs Thompson: "I want to say thank you to everyone who made my birthday such a lovely and memorable experience. I've had so many unexpected surprises and to share them with my Treginnis extended family has been lovely."
Monday, 15th October
We had our first evening farming session today. The children are sufficiently into the swing of things for one group to do a job with the goats after dinner. That had been preceded by the usual routine jobs of looking after the farm's most important dwellers – the animals.
There was also a big harvesting job to be done in the afternoon, with pumpkins being sorted and potatoes being picked. The potatoes picked were actually the ones deemed to be sub-standard during last week's harvesting session – those picked today will be used as animal feed (nothing is wasted on the farm).
The morning was punctuated by the opening of the Treginnis Shop. Many carefully considered gifts were bought for loved ones back home.
The shelters continue to progress well with some actually finished tonight.
We're off to St David's tomorrow where the highlight will be a guided tour around the cathedral.
Tuesday, 16th October
We had our usual round of looking after the animals before having breakfast (where today's optional extras were bacon and beans). This hearty meal would stand us in good stead for our walk to St David's. The fine weather we've had the last two days continued and we were bathed in glorious sunshine for the whole trip.
Once at St David's Cathedral, we split into two groups and were taken on VIP tours that involved learning about art symbolism and exploring the historic and religious links in the Cathedral, choral singing next to the Queen's seat and a treasure hunt to find different 'landmarks' within the cathedral. There were also some wooden mice that had to be found (ask the kids when you see them). As well as being very informative, the trip provided us with many opportunities that we can explore further during our preparation for Confirmation. The lady who led the tour commented that she always remembers our school as the level of our answers and questions is higher than any other school she guides.
After this, we spent the last of our cash in the Cathedral shop then had a picnic lunch in the Cathedral grounds. We were joined for lunch by a surprise guest – Mr Foxon. We still had time for a short walk through the city and spent some time playing in one of its swing parks. Despite trying to act 'cool' and 'grown-up' sometimes, the screams of delight in the swing park showed that the class are still children – there were some grown-up children there too. The ice lollies from the shop across the road went down a treat, and then it was time to head back. Modern technology measured that we'd walked over 10km, so it was a fair stretch of the legs.
There were still jobs to be done before and after dinner. Before dinner, we personalised Treginnis tags to add that authentic touch to produce that the farm sells to the local community. Once the goats were put to bed, we cracked on with our shelters – most are now finished. We continued with our novel before heading to bed for a well-deserved rest.
Wednesday, 17th October
Today was cooking day. Dinner was made by the children - pizza. They all promised they were going to practise their new skills at home and make the rest of the family some dinner one day this weekend (or something like that, anyway).
The weather has been bright and breezy today - this afforded some lovely views out to sea for those who were out on the sheep-check run. There were quite a few garden tasks to be done today that meant lots of lifting and carrying – tidying and cleaning bedrooms should be a breeze after these exertions.
Tonight was the last night for working on our shelters, so the pressure was really on to try to get them finished.
Tomorrow is the last working day on the farm, and it is rounded off by a coastal walk to Porth Llisgi Beach in the afternoon. The children are looking forward to being home with their loved ones, but are also a little sad about leaving their new friends behind (animals as well as humans). The latest batch of letters from home arrived, which were well received as always.
P.S. As this is written, no cases of pizza poisoning have been reported.
Thursday, 18th October
Pumpkin Day!
And so our last working day had arrived. It was time to say good morning and goodbye to some of our farmyard animal friends that we would never see again (except maybe on Christmas Day for some of them). Before breakfast, Group A climbed the Garn for a good vantage point to check on the sheep, but also caught a glimpse of a beautiful sunrise over the Atlantic Ocean. The beautiful weather was to be a recurring theme throughout the day.
Group B groomed and exercised the horses and donkeys, cementing firm friendships with their particular favourites. Dan was worried that his original plan to have next week's school harvest the pumpkins was going to be too big a job. So, St G&T were volunteered for the task, and they approached it with fervour. The field laden with pumpkins (some of them very large) looked daunting when first approached. However, that was not taking into account the mighty St G&T. Soon, the field was blur of orange, as pumpkins raced from their hitherto place of rest onto the three trailers waiting for them. Once transported to the playing field, these were then unloaded with the same impressive speed. Dan was blown away by the approx. 700 pumpkins shifted.
The sun continued to blaze down as we set off to the beach after lunch. This made for perfect weather to explore the rock pools and sand, spotting aquatic wildlife and collecting shells and stones, while some even chilled out and caught some autumn rays. All the warnings about not going beyond the depth of their wellies were blissfully unheeded as the children splashed and frolicked in the water. Beware of strange creatures emerging from the depths, though …
After dinner, it was time to finish off packing and get set for our long journey home tomorrow. All that remains to be said from the children is a big thank-you to all the staff and animals at Treginnis for being such fantastic hosts and also to Mrs Thompson, Mr McCarthy, Mrs Rider-Forman and Mr Langford for their infinite patience, understanding and hard work throughout our trip.
The children have requested that they be spoiled on Friday night including one of their favourite meals. Good luck when opening the cases!
See you soon.