Treginnis Update 2019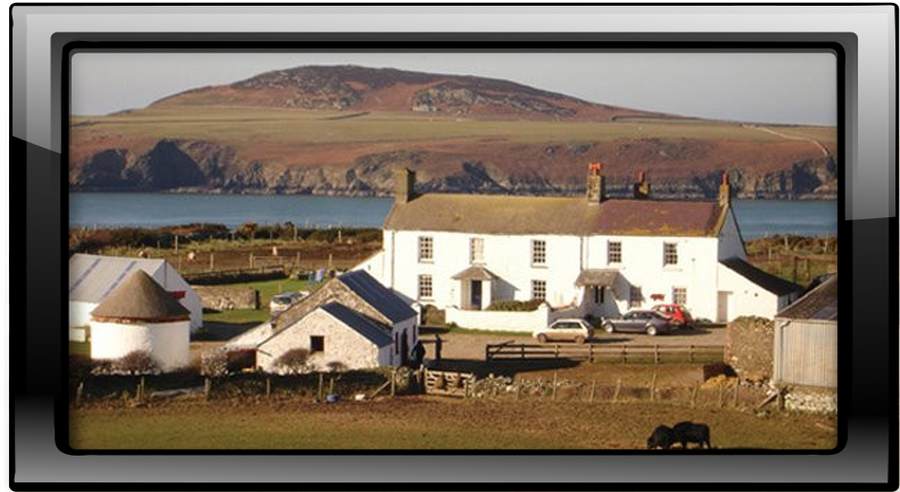 Friday 11th October 2019
After our long coach journey, we arrived at a rather windy Treginnis. We were all very excited to settle into our dormitories and get to know the staff. After a delicious first dinner, we had time for a few games and relaxing before we got started on our bird shelters. All of the wood sawing has been done, and we can't wait to get started on the rest of the structure.
The real work starts tomorrow with pigs, poultry and goats who need our attention before we can have our breakfast. We are so excited for our farm adventure to begin!
Saturday 5th October 2019
We were up bright and early this morning, all the children couldn't wait to get started! Both groups had the important job of serving breakfast to the pigs, poultry and goats. After a quick breakfast for ourselves, we were ready to begin our working day.
The weather started quite clear and dry, so it was the perfect time to saw some wood and muck out the hens, turkeys, cockerels and geese. Miss Li was so impressed with the resilience of the children, the job got done very quickly.
After a delicious lunch, we spent a bit of time on our D&T shelters. We had some free choice time; writing letters home and playing some sports. Then we headed out for our final jobs of the day, milking and feeding the goats, herding the sheep, cabbage picking and pumpkin washing.
Such a busy first day, we wonder what's in store for us tomorrow…
Sunday 6th October 2019
We were quite exhausted after our first full day on the farm, so we all decided it was best for an early bedtime last night. Then before we knew it, it was time to get up again!
After breakfast, we got a coach into St David's to attend Mass at St Michael's Church. The children were a real credit to our school, they behaved impeccably throughout the service, and this was noted by several Parishioners.
Before lunch, we went as one big group for a coastal walk. We were blessed with the sunshine, although it was rather windy at times, the children were very eager to stop and take in the beautiful scenery – some even managed to snap a few scenic photos! Ellis told us all about the history of the copper mine and we located Ramsey Island. On our return to the farm, we spotted some seal pups relaxing on the rocks and some lucky children spotted a porpoise in the distance!
We helped Mrs Grosvenor celebrate her birthday today and she very kindly shared some of her birthday with us, which was baked especially for her by Sue, the cook.
We hope you enjoy the rest of your celebrations, Mrs Grosvenor!
We then headed out to do some more farm tasks, including grooming donkeys, mucking out their stables, also feeding the sheep and rams. For dinner we had the most delicious roast dinner and flapjack.
Our shelters are coming along nicely, a special thanks to Mr Grosvenor for his help and expertise.
Monday 7th October 2019
Every day seems to be flying by at the moment, it must be all of the fun we are having! We woke up to a very wet and blustery Treginnis, we fed the poultry and milked some goats. Then we said goodbye to Mrs Wright and her parents, who headed back home. Many thanks to all of them for helping us settle in and for showing us how to enjoy the 'farm way' of life here in Wales.
After a quick breakfast, one group washed some tiny pumpkins and bagged them ready for wholesale. The other group took up some strenuous hard work, sawing wood for the log fire in the house – Mrs Wright has placed an order for a bag of her own back home!
We had a very tasty pumpkin soup for lunch, many of the children were surprised by the colour of it (not orange at all) and several tried pumpkins for the first time! Miss Li was very proud of those children for trying something new.
After that, we went straight to the field as one whole group to harvest the same crop of pumpkins on the farm. Mr Langford, Mrs Rider-Forman and Miss Li felt so proud of the children who worked really hard as a team. There were also lots of children who challenged themselves with much heavier pumpkins! We counted approximately 500 pumpkins harvested in all – Dan and the team were very impressed. It was nice to know that we had played an important role in the Treginnis' farm food production.
Somehow, amidst all of the farm work, the children found some time to visit the shop and find some souvenirs for loved ones and themselves. They were quite spoilt for choice with many handmade gifts to purchase!
We ended our day with one group taking part in a sheep check with Ellis. Looking for any damage to fences and ensuring the sheep are safe are an important end of day job on the farm. They even had time to climb to the top of Buzzard Rock for a great view of the surrounding area.
We can't wait for our trip to St David's cathedral tomorrow…
Tuesday 8th October 2019
Despite an early bedtime last night, the children were not happy with Miss Li when she woke them up this morning, more sleep would have been wonderful but it was time for another busy day at Treginnis. Everyone was washed, dressed and in the Boot room for Dan's farm tasks as punctual as ever – they are such a reliable and resilient bunch!
We fed the pigs and poultry, which we are really getting the hang of now. Another group had the important job of carrying out a health check on goats of all ages and sizes. Many dormitory points were awarded for all groups, as everyone took the job seriously. We felt like real vets and realised how important our Science learning can be for a potential career with animals!
Dan advised us to really fill ourselves up with breakfast in preparation for our long walk later that day, it wasn't hard to resist the bacon and beans on offer though!
We set off for St David's cathedral, it was quite the expedition. We walked for forty-five minutes there and back but entertained each other with a variety of songs to help speed us along the way. The children loved the visit to the cathedral. We saw many fascinating things, including a tomb belonging to the Grandfather of King Henry VIII. Janet, Laurence and Tomos were fantastic guides, very informative and full of interesting facts that we hope to share in our written work when we return to school. The exterior of the cathedral is amazing and the children were quite in awe of its size and grandeur. We took lots of photos and hope to create some nice artwork very soon. As a special treat, we had some free time in the local playground opposite St Michael's church and we also enjoyed an ice cream or ice lolly in the sunshine!
As we set off back to Treginnis, we made sure to post our remaining postcards and letters. We hope you get them soon.
On our pigs and poultry check this evening, Andrew taught us all about the different stages of a pig's life. Then, with his guidance, we worked as a team to herd the poultry back into their pens in the most efficient way. Another group washed, brushed and sorted some of the larger pumpkins for market. Treginnis are also expecting a special visitor next week to open their new classroom, we wonder if some of our harvested and prepared pumpkins will be part of their grand display?
For dinner we had yummy pork burgers, homemade roast potatoes and fresh doughnuts. Definitely a favourite dessert by far! Then, whilst we enjoyed a hot chocolate and a shortbread biscuit, Miss Li set us a general knowledge quiz, which we completed in teams of two. Sports and music seemed to be the more favoured topics to answer. All children were good sports throughout though.
Tomorrow evening's entertainment is a Year 6 talent show. The children are all extremely excited by this and have lots of time to rehearse their acts tomorrow in between the farm activities. We have seen a few 'Strictly come dancing' rehearsals taking place already, Miss Li, Mrs Rider-Forman and Mr Langford can't wait to judge!
It's an early bedtime again tonight, we feel exhausted after our trip into town so no complaints here!
Wednesday 9th October 2019
After a good night's rest, we set off in our groups to tend to the goats and sheep. We are so used to the routine now that we are much quicker in carrying out the tasks and we only require a little of the help from Dan and his staff.
Back in the warmth of the house and after a healthy granola breakfast with fresh fruit, we each took turns in making our own pizzas. The children put their D&T skills to the test, weighing out the flour, yeast and kneading the dough to perfection. We were allowed to choose our own toppings of choice from home grown vegetables and either pepperoni or ham if we wanted. It was nice to know that this evening we would be eating a meal made by our own hard work and the cooking staff could have a little rest.
In between making pizzas, we had a little outdoor time – we cannot get enough of the fresh country air! We also rehearsed some of our acts for the show this evening.
Dan is very busy preparing to open up a new classroom at the farm and we very keen to help him. Earlier this week we made our own sketch books, so we each had a bit of quiet time to sit by the window overlooking the farm and draw some landscapes. While some were doing that, others were busy painting a variety of pumpkins and pictures of Treginnis. All of our tiny pumpkins that we washed this week have now been bagged and ready for the shop, but we needed to write a tag for each with a message to the customer about Treginnis. There were so many memories and favourite parts of the farm that the children wanted to write about, we almost ran out of tags!
Today we also took part in some apple pressing. These apples do not grow on Treginnis farm, but are collected by the staff from their gardens and other areas of St David's. We worked as three teams: chopping up apples, turning and mashing the apples, then walking around a pressing machine in partners to squeeze the juice out. The apple juice produced was quite a rosy colour, it smelled amazing and we hope to enjoy it during breakfast tomorrow.
Later on, we settled the donkeys down and another group went with Dan to tend to the pigs and poultry. This task proved more challenging than normal as a duck had got himself trapped in the pig pen and a set of piglets had escaped out of their pen! Once the children had locked away the other animals safely, they then helped Dan herd the piglets back to their Mother and save the duck. The job was still not done, as we all got to feed the pigs a little extra before we headed back – a wheel barrel full of our apple leftovers! The pigs loved snuffling for it in the mud as an extra to their normal feed.
After our pizza dinner and a double chocolate cookie, one group had their late night task to carry out. We walked the donkeys up the hill out of the farm and climbed to the top of Buzzard Rock just as the sun set. It was very beautiful.
After such a busy day, the children still found the energy to put on their talent show in the evening. The acts ranged from comedy sketches, to drama plays, dancing and singing. Those that didn't want to perform took part in a farm-themed challenge set by Mrs Rider-Forman. The children did brilliantly. The staff were so impressed!
Thursday 10th October 2019
We all woke up feeling rather disappointed this morning, knowing that it was our last full day at Treginnis. Each group headed out to the pigs, poultry and sheep to say their last goodbyes. It was our last walk with Ellis and his farm dog Kye as well.
It was quite windy outside, so a bowl of porridge or cereal, toast and some fresh croissants soon warmed us up again. Before we knew it, we were back outside.
It was Group A's turn to groom the donkeys. They were so fluffy and gentle, that we didn't mind mucking out their field either. Working with a partner made the time pass quickly. Group B collected the eggs from the morning, washed, brushed and stacked them into boxes ready to be sold. The children were quite excited knowing some had made purchases in the shop earlier this week and would be taking eggs boxes of their own home from the farm.
It was hot dogs for lunch today. They really filled us up! We are going to miss the food here at Treginnis. Everything has been cooked to perfection, the line for second helpings is always very busy!
Then in the afternoon, something the children had been waiting for all week…our trip to the beach!
Andrew made sure that we walked safely there and back, particularly down the steeper, rocky parts of the hills. He knows a lot of interesting facts about Geography and Science, so children quizzed him on the way there about what we might see. When we arrived, the children couldn't wait to explore their coastal surroundings. Some decided to investigate the small rock pools, others found small fish and even a few crabs! Children found time to build their own rock sculpture towers but the one thing that many braved was the icy, cold water. Including Mr Langford!
The water was very choppy, but all of the children wanted to run in wearing their wellies and waterproofs as soon as they could. Some of us forgot that the deeper we went, the wetter we would get, soon many were jumping through the waves and completely submerging themselves.
The walk back wasn't as fun for those soggy and water-filled wellies, however, we made it back in one piece, just in time for our final meal of curry and ice cream for pudding. What a treat!
At the end of the night, Dan came to award our 'Farmers of the Week' but also congratulate every individual for their resilience, improvements and enthusiasm that they had demonstrated all week to each of the farmers. We were told that even though we were two large groups, as we were so efficient, proving that we were quick learners, at times if felt as if the farmers were working with much smaller groups. What a compliment!
It's been an amazing experience for both children and staff. We can't thank the staff of Treginnis enough for their great hospitality, for creating such a wonderful place for us to work and be a part of for the week. We have created so many new memories, strengthened friendships, formed many new ones (with humans and animals). We are exhausted but happy and looking forward to returning home to see our loved ones.
It will be sad to say goodbye in the morning but we will see you all very soon…